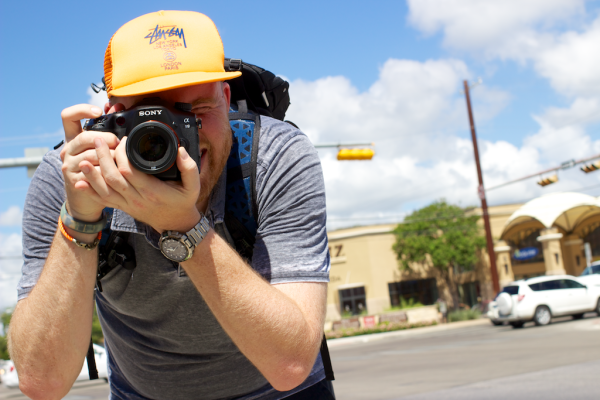 I am a programmer turned entrepreneur, mentor and angel investor.  I co-founded several companies over my career and achieved a few really good exits. I received some notoriety for smashing a fax machine with a baseball bat during my pitch for Zosh at Demo conference in 2010. This earned me a coveted demo god award and attracted the attention of HighTail (YouSendIt) the company that would acquire the company six months later.
I currently work at Written the company I co-founded with three other very talented entrepreneurs whom I met at Capital Factory.  (Marc Smookler, Jeremy Bencken and Connor Hood.)
I am also a father of two amazing children a boy and a girl.
---
Personal
I'm from New York originally but I've lived in Austin, Texas for the past ten years.  I've always been fascinated by technology and during my junior year of college at the University of Texas at Austin, I switched into computer science.  That was the beginning of my career in computers which has spanned more than fifteen years culminating with my current gig as Co-founder and CEO of a technology startup.
I'm an introvert which comes as a surprise to most people because my job requires an outgoing personality and I'm actually pretty darn good with people.  I guess I'm a bit of a narcissist, I'm a blogger so I sort of have to be by definition.  My motivations for blogging are driven more about learning the technology and less about trying to make some sort of a statement.
There is no doubt that I'm a science geek.  Whether its quantum physics or fast growing functions, I spend hours reading about what makes our world tick often sacrificing sleep to learn something new.  I don't sleep much as a result which is probably not so good for my health.
Speaking of my health that isn't so good either.  I was diagnosed with Crohn's disease when I was 18 and have been dealing with it ever since.  I'm mostly in remission which is great but there are all sorts of side effects to the medicine I take and it definitely interferes with my quality of life.  Chronic illnesses are tough and I'm a wimp when it comes to pain so its taken a toll on me, changed my perspective on what is important in life and played a big role in defining who I am.
I consider myself a very lucky person, I was born into a great family in a great country and have had a life filled with wonderful opportunities.  I do work hard and I believe I've got some great talents, but my good fortune has been impacted in such a positive way by my luck.  If you subscribe to the "many-worlds" theory in quantum physics then I'm simultaneously living in other dimensions experiencing lives that aren't so lucky.  So I guess this version of me was dealt a pretty good hand.
---
Current
---
Greatest Hits
4x startup exec/founder
DemoGod Winner (Spring 2010)
Austin Technology Incubator alum (2009)
Patent: System and method for collecting a signature using a smart device #12/555,667
---
Flipboard
I curate several magazines on Flipboard. Below are a few of the more popular ones. Click this button to see all of them:
Popular Magazines
View my Flipboard Magazine. View my Flipboard Magazine. View my Flipboard Magazine.
View my Flipboard Magazine. View my Flipboard Magazine. View my Flipboard Magazine.
---
HipHop.io
I curate a another blog on Tumblr with all sorts of interesting bits of information that I pick up on the Internet. Yeah, I know that could be anything, but I promise, its an interesting read on topics.
---
Content Marketing Edge
I also curate a popular content marketing collection on Medium.
---
Links